When you are sick, you want personal attention from a doctor you trust. You want one-on-one care in a quiet, calm environment; one that helps you forge a bond with your primary physician. The same applies to your pet. Dr. Jake Tedaldi founded Vetcall with this in mind, because pets feel more comfortable in a familiar, intimate setting. Unlike large animal hospitals that are often filled with barking, screeching and overall chaos, Vetcall guarantees that your pet will benefit from an ever-lasting close relationship.

The practice deals primarily with dogs and cats, although pocket pets are always welcome.

Dr. Tedaldi is a 1980 graduate of Harvard University and a 1990 graduate of Tufts University School of Veterinary Medicine. As such, he is certified to treat all animals. He is one of the few vets who will come to your home, driving to your doorstep in order to help with whatever ails your pet. Dr. Tedaldi also has surgical and medical privileges at a local animal hospital so that he can help with most cases that require such facilities.

Give your pets the same medical attention that you give yourself. Introduce them to Dr. Tedaldi today and discover the long-term and short-term health benefits that a highly-trained, highly-attentive vet can provide.

Additional Information:
JAKE TEDALDI
Best of Boston
2006 & 2011 Vet
"Making house calls in a black Hummer (license plate: "ANIMAL") roomy enough to house a small petting zoo, Dr. Tedaldi pulls up to his patients' homes with examining table, medical kit, and biscuit bribes at the ready. Believe us: Never having to haul out the carrier or spike the water with sedatives makes annual checkups and shots almost pleasant." - DailyCandy
Featured guest on Matty in the Morning on 107.9 Kiss FM and The Pet Hour on Sirius XM Radio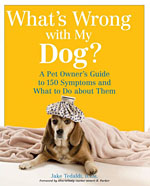 Become the best dog owner you can be!
Fido is limping. Spot's suddenly drooling heavily without any apparent cause. Princess has scratched herself raw--and she's on a good flea-preventive. Max's started vomiting. Brandy's inexplicably losing weight. Buddy's ears smell funny. What's wrong with your dog--and what should you be doing about it?
In
What's Wrong with My Dog?
, acclaimed vet
Jake Tedaldi, D.V.M.
, gives you the answers. A first-aid guidebook that's easy to follow and use,
What's Wrong with My Dog? covers more than 150 symptoms, from behavioral problems to physical ailments.